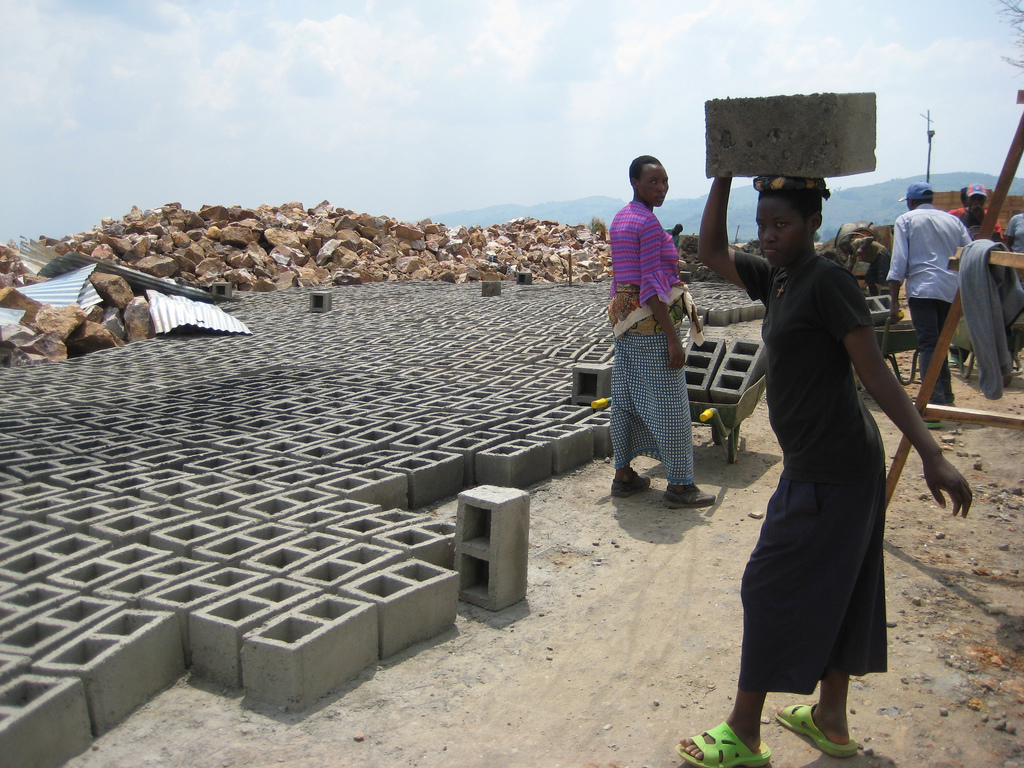 Carved into a hilltop in the Burera district with 360° views of the hills and valleys in northern Rwanda, the 65,000-square-foot hospital complex is comprised of a series of white stucco buildings with terra-cotta tile roofs, seated on a plinth of locally sourced basalt volcanic stone and organized around a long interior courtyard. On the periphery, the buildings are flanked by lush terraces, creating an outdoor extension of the hospital's verandas and enhancing spectacular views to the valley below. The site was a former military base, where 18-year old grenades and unclaimed burial grounds were unearthed during construction and the memory of mass violence went unspoken amidst the positive energy of the site's new future.
Client - Partners in Health
Type - Hospital Landscape, healing gardens, sustainable landscape
Status - Complete, 2011
Area - 65,000 sf
Location - Butaro, Rwanda
Team - MASS Design Group, Ten x Ten
The courtyard landscape is broken down into various indoor/outdoor waiting spaces, a variety of lush planting beds, a water wall and small reflecting pool, several small pocket courtyards, a small amphi- theater, a primary green open space, overlooks and a terraced landform feature to memorialize an old, massive ficus tree, an umuvumu that, according to Rwandan tradition, once marked the places where the king and his court lived and held public services for that region.
In line with the expectations for the facility itself, the landscape capitalized on the opportunity to recon- sider how patients and their families experience health care, healing, and loss through landscape. Our charge was to envision a sustainable landscape that could serve as an extension of several hospital programs, including: triage, waiting areas, exterior corridors, rainwater harvesting, spaces for patients' families to gather and areas for families to wash clothes and cook meals. The landscape also needed to negotiate bi-level building entries through carefully considered retaining walls, accessible ramps (the first in the rural region) and sloped terraces.
Many studies have revealed that visibility of landscape has shown patients to heal more quickly, thus suggesting a dire need to apply landscape thinking to even the most remote of facilities. The planting beds were designed to buffer the verandas or exterior hallways and the primary green open space, creating a visual screen for patients in the wards and others gathering on the lawn. The plant palette is made up of native plants selected for their texture, color and resilience, with the goal of introducing playfulness into a place too often associated with depressing and dull surroundings.